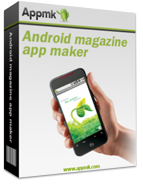 $79

Convert PDF, image to Flipping android app
It doesn't force you know any protocal or programming knowledge.
Create audio books or not with PDF and image files edit winthin several minute.
Allows you to choose page scrolling or flipping mode.
Smart index and search functions enables you to quick positioning.
You can create any number of flip Android apps without additional payment.
The output flip phone Android book apps can be sold on Aandroid market or the third part markets.
One-time fee, unlimited conversion, without paying royalties.
Free Trial
Buy Now
View Demo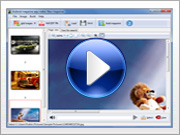 Take a Video Tour>>


Why Use?
Features
Screenshot
Example
Android magazine app maker is concentrate on converting PDF and image files to portable flip phone Android electronic publications for popular Android-powered devices. Without any programming, you can easily create flipbook Android phone apps. The flipbook android apps enable searching, hyperlinks, book index, and most importantly, you can read the book by flipping like ruffle a paper book.
Simple and easy software interface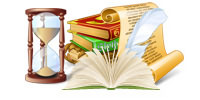 You can completely create flipping Android apps of book, magazine, comic, cartoon, brochure, catalog, etc. Even though you never know the knowledge of computer before using Android magazine app maker, don't worry, simple operation steps clearly guide you to step into next by the brief prompts. The output Android phone flip APK files can be uploaded to Android market, your own homepage, or others third-part Android markets if you have already accounts.
Embed Admob ads in flip Android app book to earn commission fee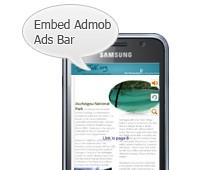 Before build a flip Android app, there are two options for you to choose: embed ads of Admob or not. It is up to you. You can register Admob account and then enter its ID in the output flipbook Android book apps. After your readers obtain it in any way and install in Android devices, they would view the ads scrolling on top area. Of course, some reader will feel sick about it, so if your original intension is selling book content, please embed carefully.



Test the output apps in Android emulator, tablet or mobile phone

There is an action we should make before transmit the output Android phone flip apps to others. You should spend some time to test them. Download an Android emulator in PC could be requirement. More details, please visit this app testing manual: how to test the output apps?

Search function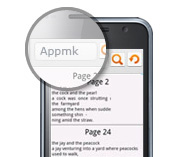 The output flip Android app if has been installed in Android, it provides an entrance to the interface of searching. Enter the content you want to find in the searching form and then click icon "Search", you can quick enter the pages which contain the content.
Index and Full Screen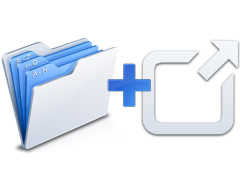 Before app created, you can choose thumbnail or non-thumbnail form. In fact, the thumbnail equals the book index. By sliding the thumbnail list at the bottom, you can quick access to the page you want to read. There is another quick-approach method, click bottom area, and then enter the page number in the pop-up window.
Click the center of screen, you can switch the book viewing full screen or not. In the mode of full screen, others icons are all hided, the book page occupy the full screen for viewing more clearly.
About Publish Online
Google Analytics Integrated features coming with this FlipBook Creator: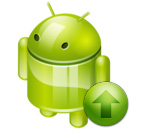 No matter how powerful
Android magazine app maker
is, we all have the only end purpose that publish our
flipbook Android
online and earn money from Android. If you have own website, that's even easier, directly upload the output apps on your site and then earn money in some way. Or publish on Android market and then sell the books.
Features:
I. About Product:
Convert PDF or image files to Android applications.
Audio books: add background music for every page of flipping magazine, comic, etc.
Support the function of searching (You can add text to the image files for searching).
Allows you to create page thumbnails or not.
Define application icons, application name, package prefix, package name, version code, version name, etc (Package prefix and name will be integrated as the app's unique ID which android markets and android-powered devices can recognize).
Support import multiple PDF and image files.
Reserve the hyperlink on the PDF file. (open a new webpage or skip to other page of PDF.)
Move pages up or down to sort them.
Page preview function enables you to zoom pages in/out to check it more clearly.
Save current PDF or image pages list as XML file, when needed, you can quick load it to continue editing.
Export/Import magazines as projects to continue editing in future or in different computer.
Create keystore for android digital certificate.
Add Admob ads into Android magazine apps.
II. About Magazine APP:
With the Magazine APP created, the readers will be able to:
Read your magazine offline after install it.
You can search special words preciously.
When flip you can hear the flipping sound meanwhile, also you can shut it down.
Every page has its small thumbnail which is listed bottom horizontally on the buttons "Previous" and "Next" or only leftward or rightward arrows.
If you embed background audio file for the page, when flip it, you can read and listen.
Click previous and next button to flip page.
Full Screen: Slight click the center of screen to view in full screen.
Press and slide corner to flip page.
Read some ads on the top of the magazine if it is embedded Admob ads.
Here are some screenshots of version 2.0 below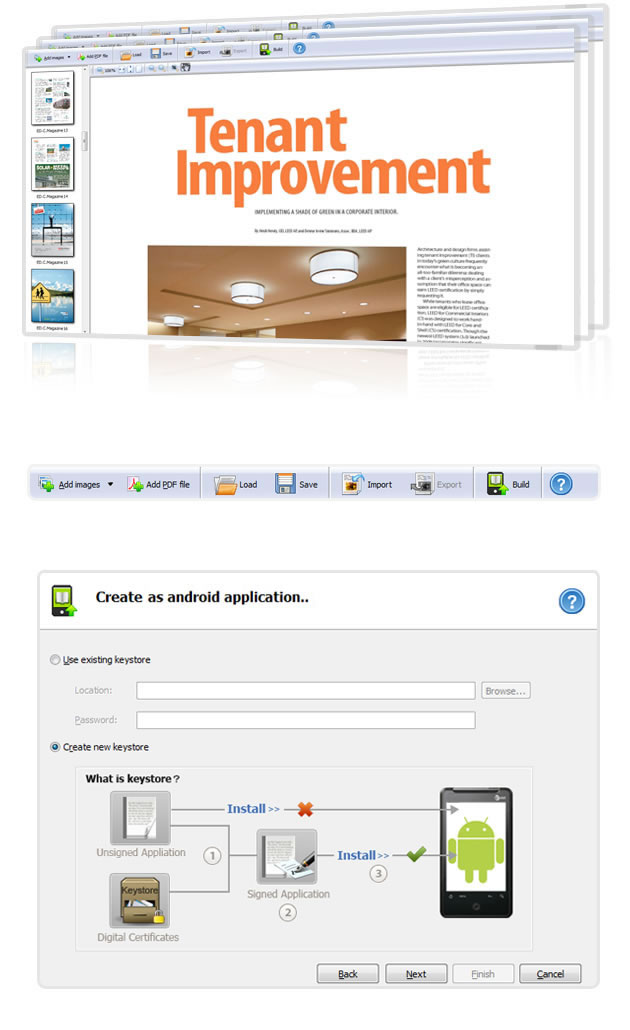 Examples made with Android Magazne App Maker in Android Market
You can download the example apps with your android device from Android Market. Or search "appmk" in Android Market to see more examples.