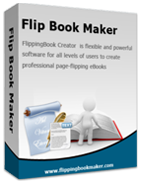 freeware

FlipBook Reader-
freeware
It's a reader for PDF file
Allow you quick install without complex steps and assistent softwares..
Enable you to quick view PDF within several seconds..
View the PDF in the form of the flash page-flipping book.
Download
This smart FlipBook Reader is absolutely free assisting you view PDF file with ease. It enables you to get rid of complex installation and allows reading PDF as soon. You know if you haven't a suitable PDF reader, it will prevent you from viewing the content in the PDF file. Before you select this software I want to ask do you always work with some PDF files. If you haven't still touch PDF files, maybe you don't know what it is. Actually, PDF is very popular among people in offices globally. It is smart and portable for viewing in fact with rich information such as audio video, image, hyperlinks, etc. As you would expect, there are many PDF readers in the internet. It proof true if you enter the keywords for example "Where can I find PDF reader?" on Google Search Engine. The Adobe PDF reader might be the most famous one, but anyway you have to pay high for using it. It almost depends on what are the requirements you need to engage to PDF. If you just want to view it, so therefore, this kind of user-friendly and small-exquisite freeware will help you much.
How to use FlipBook Reader viewing PDF?
When open FlipBook Reader, a flash page-flipping as a welcome will burst into eyes which produced by FlipBook Creator. And then move your sight to the up-left corner, click the option "File --> Import PDF" or directly click the icon of "Open PDF". From the pop-up window, you can find the entrance of importing PDF.
If you need convert PDF to flash FlipBook, please see our product: FlipBook Creator, FlipBook Creator (Pro).