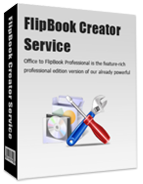 $599

Good assistant for batch pageflip online book creating
It is processing factory for flipbooks batch making supports many different production lines meanwhile.
It processes a great deal of PDFs at background when start up.
It always works in the same way until you change the rules.
Just drag and drop PDFs in the monitor folder and then harvest Pageflip books in output folder.
You can avoid the repeat work of manually building flipbooks everyday that easily make errors.

Unlimited

conversions

without paying royalties.

Free Trial
Buy Now
View Demo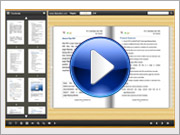 Take a Video Tour>>


Why Use?
Features
Screenshot
How It Works
FlipBook Creator Service is a tool and also a service which runs on Windows System. It batch creates page-flip flash books at background as a monitor (watchdog). After define service rules, it builds online flip books according to the rules and transfer the output pageflip books to output directory until you change the rules it will runs as the new rules guiding. Compared with the other series software of flippagemaker.com, it looks more like an automatic plant specializes in batch flipbooks generating.

It is a Service on Windows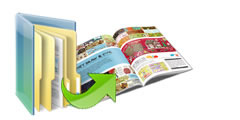 After
FlipBook Creator Service
installed on Windows system, you can establish several tasks for later usage by setting on its User Interface. Before
build flipbooks
, you have to write rules for the tasks obeying which in the service list. Next, you should put some PDF files in the monitor folder as raw material. A while later, in the output folder you will find the
pageflip books
which are made from the previous PDFs.
It supports several production lines at the same time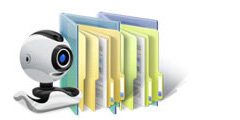 FlipBook Creator Service looks like a flipbook processing factory. You put in the raw material (PDF files) and then get the end products (pageflip effect eBook). As you expected, it can run several production lines at the same time that produce flipbook belonging to one kind or multiple kinds.
Preset rules of FlipBook producing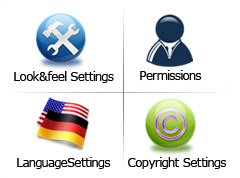 Render Engine Options: switch among 3 different Render engines for making different required flipbooks.
Page Range : custom page range for processing.
Import quality : select a suitable quality option for special requirements.
HTML SEO: define title, keywords and description for search engine.
Import: bookmarks and hyperlinks.
Enable Search: Make the output flipbook searchable.
Built-in FlipBook Templates as quick reference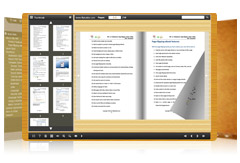 Attract the readers' attention with themes freely. Design your own themes with built-in setting features such as hard cove , colors, backgrounds color and image, sounds and Pageflip book page size for better displaying.
Distribute FlipBooks to Everywhere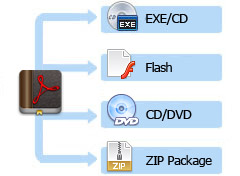 The output flash flipping book can be exported with following options:
Publish flipping book as the stand-alone EXEs for Windows.
Create online flipping book (HTML) for websites viewing.
Produce ZIP Package for sharing by email.
Publish online for mobile devices browsers (iPhone, iPad, and Android devices).
Measure advertising ROI with the Google Analytics
Google Analytics Integrated features coming with this FlipBook Creator:

If you have a Google Analytics account, you can embed Google Analytics in the HTML type of flipbook. There are 2 methods: 1 directly copy the GA code in the HTML; 2 Import the txt file which exported from other FlipBook Creator series of products that reserve the template settings contain GA. (Once enter your account ID in the publishing flip book, you can monitor and analyze visual statistic graph from flipping book webpages in your Google Analytics interface, simultaneously integrate and calculate advertising ROI or tract traffic information. )
Product Features
As a windows service runs when System start
1 Once start it, it begins as the Operation Sysrem starts every time.
2 After custom rules for flipbooks creating, it runs in the same way untill you need the new.
3 Support several production lines work and procude different formats of flipbooks at the same time.
4 Provides built-in templates and support importing templates for reuse.
5 Support import the settings txt which exported from other FlipBook Creator series of software.
Automatically Batch Build flipbooks avoid human mistakes
1 It runs at background to monitor your actions of drag-and-drop PDFs.
2 Create Log file to record your operations.
SEO (Search Engine Optimize) and Google Analytics
1 Allows you to enter title, keywords and description for the HTML type of flipbooks.
2 Embed GA to monitor the traffic. Actually you can insert the GA code in the HTML manually.
Optional output formats
1 HTML: publishing online.
2 EXE: run in Windows system without assistant software.
3 ZIP: send it by email with no need of package again.
Note: you can check the option of Create mobile version for viewing on iPhone, iPad and Android devices (through built-in browsers).

Output Flash Flipping Book Features
With the flash flipping book you have created, your user will be able to:
1. Drag the page corner to flip a page.
2. Click page shadows arrow to flip a page.
3. Input password to unlock encrypted pages.
4. View with pre-loading needed pages to open quickly, do not need to wait all pages loaded.
5. Use button to control page, such as Previous, Next, First, Last etc.
6. Auto-Play Flip pages.
7. Auto-Play flipbook repeatedly.
8. full screen modeto view page-flipping ebook.
9. Use page thumbnail to navigate flip pages.
10. Full text search in whole eBook.
11. Print out the whole flash flip ebook or a range of pages directly.
12. Download the uploaded page-flipping eBook from web site directly.
13. Double-click to zoom in or zoom out.
14. Zoom in/ out both pages.
15. Share eBook url via email.
16. Open or close page-turning sound.
17. Open to a certain page in Browser by adding a suffix like this: index.html?pageIndex=4.
18. View output page-flipping eBook on iPad, iPhone and Android devices.
Here are some screenshots of version 2.0 below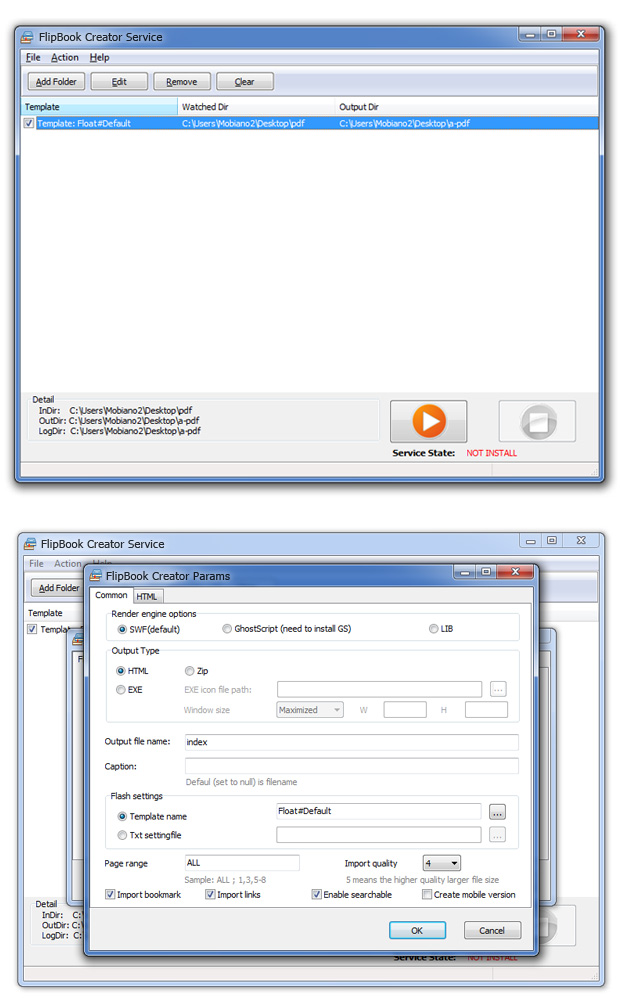 Four steps to create flash page flip book (FlipBook Writer)