FlipBook Creator for Mac
Reviews(42)





Create Web-ready Flash Flipbook for Mac Users in Minutes
Create unlimited interactive true 3D page-turning publications in clicks on Mac OS X;
Create HTML5 flipbook on all portable devices like iPhone, iPad or Android devices;
Preview and save flipbook as SWF, HTML, Mac App for online, offline;
Quick loading; Small output flipbook SWF size (less then 400KB)
Ready-to-use 30+ pre-designed 3D templates get started;
Publish and share any publication instantly by flippagemaker's cloud services;
Share stunning flash flipbook on YouTube, Facebook & virtually anywhere;
Customize your flipbook with 20+ flip styles & 30+ 2D themes;
Convert a 500-page PDF document to an flipbook less than 3 minute;
Lifetime Upgrade entitles you to free UPGRADES for as long as you own the program;

30 day money back guarantee!


Need to add Video to your Flip Book? Take a look at FlipBook Creator Professional for Mac. Works with Mac OS 10.5.6 or above, not for PowerPC.
(Looking for the Windows Version? FlipBook Creator Standard for Windows)

...
.

..
..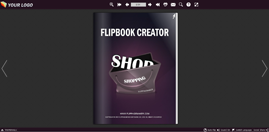 Demo 1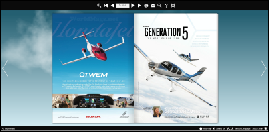 Demo 2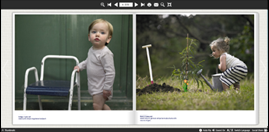 Demo 3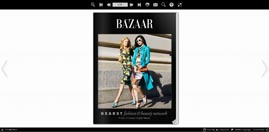 Demo 4
Overview
Features
Screenshots
How It Works
Vs Pro
FlipBook Creator for Mac is the best flipbook software, which helps you make stunning flash & html5 flipbook from PDF on Mac. You can start from a built-in template, Import your PDF, then output or upload it to a web host within clicks. It's so easy. You even don't need to have any flash programming knowledge.
With FlipBook Creator for Mac You can control over the appearance of your flip book completely. Select from dozens of settings to have your flash flip book ready to distribute in no time.
FlipBook Creator for Mac preserve hyperlinks, bookmarks, Table of Contents and text orientation from your original PDF file. Your flip books can be published online, shared via email or distributed offline. You can even save your output to USB devices. Choose to allow your users to share your creation via numerous social networking sites with one mouse click.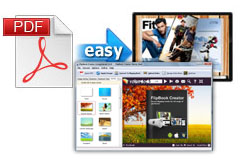 Extremely Easy to Use
1. Clear workflow to make a flash & html5 flipbook step by step.
2. Ready-to-use flash templates & themes for every event and occasion.
3. Drag and drop to add PDF flie; fully customize your flipbook look&feel.
4. Instantly share flipbook on Facebook, Myspace, Twitter & more.
5. Simply add scenes & animated backgrounds, preview in real-time.
6. No flash programming and HTML skills required.
Publish flipbooks online instantly
FlipBook Crearor's integrated online service allows you to share any publication instantly, right from the FlipBook Crearor's program menu
Easily make a flipbook and instantly publish it to the online in a convenient way. No need to use any third party tool. Easily manage the uploaded flipbooks on the FlippageMaker Online server. Share the flipbooks by sending the URLs to others.
More see FlipBook Crearor's online upload service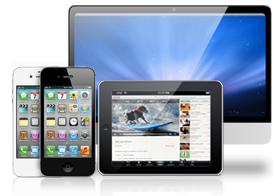 Mobile Device support
FlipBook Crearor for Mac are compatible with all the latest version of browsers, including Safari, IE9, Firefox, Google Chrome, Opera. Therefore, after you share your HTML5 flipbook on the Internet, you can use iOS devices like iPhone, iPad, Android devices like Samsung mobile phones, Samsung tablets, HTC mobile phones, Windows mobile phones and Google Nexus series to view your HTML5 flipbook.
Powerful FlipBook MAC Settings
Adjust Look&feel Settings: to suit your preferences. Change the colors of the navigation toolbar, enable or disable music looping, and set initial thumbnail display. Additionally, you can change the format of the Table of Contents and set the numbering to Roman numerals.
Set flip book background color: Specify solid color and/or favorite image as flash background instead of the default settings
You can also set Permissions for downloading, printing and sharing. And, you can utilize Copyright Settings to define flip book titles, keywords and other metadata.
Dynamically Advertising Banner
Inserting advertising banner into your page flip book is an eminently practical way to promote and advertise your product or service with page turning magazine, brochure and catalog. For one thing, it makes your html5 flip book attractive; for another, it can help you to deliver your readers more associated information conveniently. It only supports images advertising banner so far.


WordPress Plugin Integration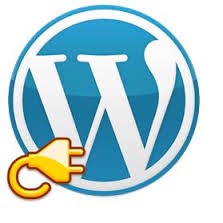 Plug-ins can extend Wordpress to do many things you can think of. FlipBook Creator provides a flipbook plug-in output options for users. Compared with embedding the code, installing the flipbook plug-in and embed into WordPress, Joomla and Drupal website has never been so easier.

Optimized Performance for Ipad
Due to the HTML5 technology, flipbook creator allows users to view the page turning publication on iPad to have a wonderful reading experience. Furthermore, users can select flip mode or slide mode to view flip book and zoom in without blur with the page flip software.
Publish Online Directly via FTP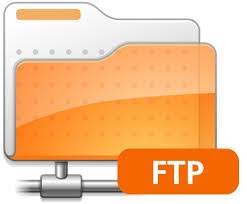 Flipbook creator allows user to upload the page flip book online via the FTP client up-loader. The flip book can be uploaded by clicking "publish" button and select "to FTP" to start transmitting the generated file to FTP server. Users are able to customize the upload directory, file folder easily. Obviously, it is a fast way to publish flip book online.


Notes and Bookmark Friendly
If users would like to add notes to mark reference points or important sections on the flip page, add annotation function will help a lot. Then bookmark function is helpful to mark a page of the publication for future use. However, it is easy to apply and simple to customize.

Single Page & Double Page View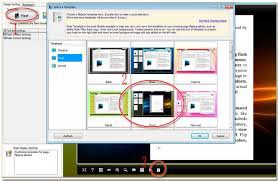 Flipbook creator allows users to select a proper mode between single and double page mode to browse page flip book. Furthermore, it always displays double page as default actually. By the way, users are able to change the mode while you are customizing the flipbook settings.



Live Wallpaper/Animated Backgrounds
There are multiple pre-designed Templates and themes Online you can download to use in Flip programs, and dozens of stunning and animated scenes embedded for you to decorate your books now. Different templates, different layout, different tool bar buttons...
Prevention from unauthorized use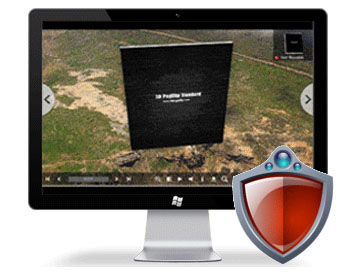 The flip book will work only on your websites. Do not be worry that somebody can copy or use your flip book. FlipBook Creator will protect your Flip Book publication with several layers of security, from simple passwords and encryption, to restricting them to be displayed only on specific websites. While publishing your books you will be able to set the watermark if you need to protect your publication from copying.
Search text and retain links
FlipBook Creator's powerful built-in search engine enables you to quickly find and highlight the text on different pages. The hyperlinks of the original files can be well retained. If you like, you can choose to disable the hyperlinks in the result flipbooks.
Free Templates & Themes
A lot of free templates, which allow you to get started on your flip book project immediately

1. Over 20+ amazing flash templates included for totally free.

2. 30+ stunning themes and 10+ advanced templates with multi-style help you

create professional flipbook

with ease.
3. 20+ free themed templates for business, photo, magazine, etc.
4. Customize a template with the built-in theme designer to make your one-of-a-kind template for any event & occasion.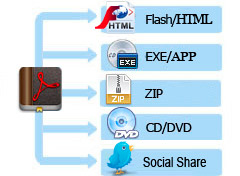 Tons of Ways to Show and Share
Publish Flash Flipbook  to FlipBook Creator's Cloud Services;
Easily save as SWF,  HTML, EXE, and Screen Saver to publish on website manually or enjoy flipbook on PC.
Generate Flipbook ZIP package for email;
Produce stand-alone Mac (.APP)  for CD delivery;
Export as HTML5 files for mobile view
Free product updates for lifetime!
Buy once, use forever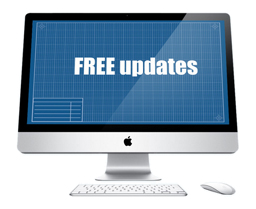 This might be hard to believe but buying flipbook creator not only gets you the latest version but all future flipbook creator updates free.
flipbook creator for Mac is desktop software that you can locally install on a MAC computer. Unlike other online PDF to Flash book services, it gives you total control of the whole production and has no limitations of the number of PDF files. With it, you can create as many interactive online flipbooks as you wish for your own company or for your clients, and all features are included.
More see Flipbook Creator's refund policy...
We Promise
SECURE

We value your privacy and protect your financial and personal data with full encryption and advanced fraud protection.

100% CLEAR

Our software is free of any forms of malware or virus. It is safe to install and run.

SUPPORT SERVICE

Knowledgeable representatives available to assist you through email within 1 business day.
I. Product features
Easy Import
1. Convert PDF files to Adobe© Flash® based flip books
2. Define quality and page size of flip books
Output to different formats: HTML and Mac App

1. HTML allows you to upload to a website to be viewed online (with title defined)

2. App is an executable application specifically for the Mac
Customize Pre-designed Templates
1. Apply a pre-designed template;
2. Preview the output effect instantly;
3. Add HTML Title in Float template which can be clicked to visit webpage online;
4. Add image or Flash logo to insert before Book Title in Float template;
5. Define book proportions, margin size, shadow manually;
6. Set background color and image;
7. Insert background music either for continuous play (loop) or for a set duration;
8. Set flip book reading from right to left (for Right-to-Left languages such as Arabic);
9. Choose hard cover for flip books;
10. Set fonts for Flash and toolbar buttons.
Provide Multiple Control Tools
1. Set colors and position (Top/Bottom) for toolbar;
2. Set permissions for downloading, printing, social sharing , Home button and more;
3. Add watermark image to print out or SWF to show on pages;
4. Add Help config to manually define content by using image or SWF;
5. Set page number box to show at top or bottom in Float and set start page number ;
6. Add Minime Style to show flip books without toolbar;
7. Share flip book hyperlink via email;
8. Download any file you attached to the flip book;
9. Search content using keywords;
10.Allow readers to share e-books via E-mail, Facebook, Twitter, etc.

II. Flip Book features


Your flip book readers will be able to:

1. Drag the corner to flip a page;
2. Click page shadows to flip a page;
3. Use mouse wheel to flip pages;
4. View with pre-loading so that specific pages open quickly and there is no need to wait until all pages have loaded;
5. Use buttons to control page, such as Previous, Next, First, Last;
6. Flip pages automatically;
7. View flip book repeatedly;
8. View flip book in full screen mode;
9. Use thumbnails to navigate;
10. Print the whole flip book or a specific page range;
11. Zoom in/ out both pages;
12. Turn on or turn off the page-turning sound;
13. Double click to change to the thumbnail mode;
14. Input password to unlock encrypted pages;
15. Allows printing of your brand logo (watermarks: text, image, date/ time, etc) to label your flip book;
16. Includes option to turn background music on/off;
17. Share flip books with friends on social networks including Facebook, Twitter, Linkedin, Google, etc...
18. Allows showing or hiding any button (search, print, magnify, page index, About, share, etc) you want; Add/remove buttons on navigation toolbar;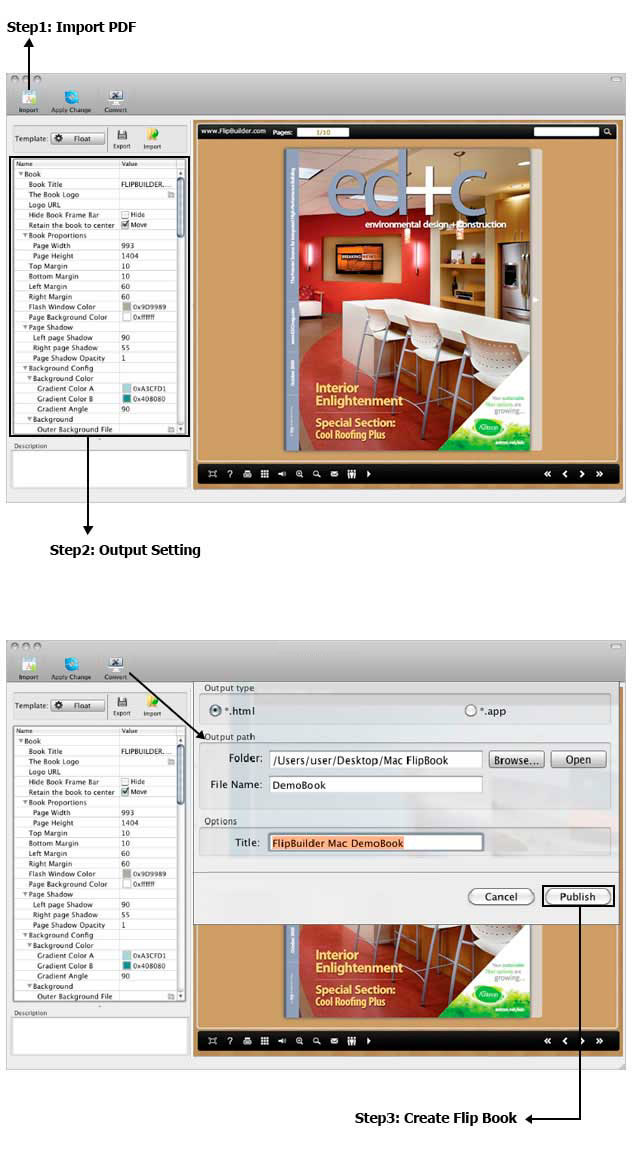 Three steps to create flash flip eBooks from PDF on Mac (FlipBook Creator for Mac)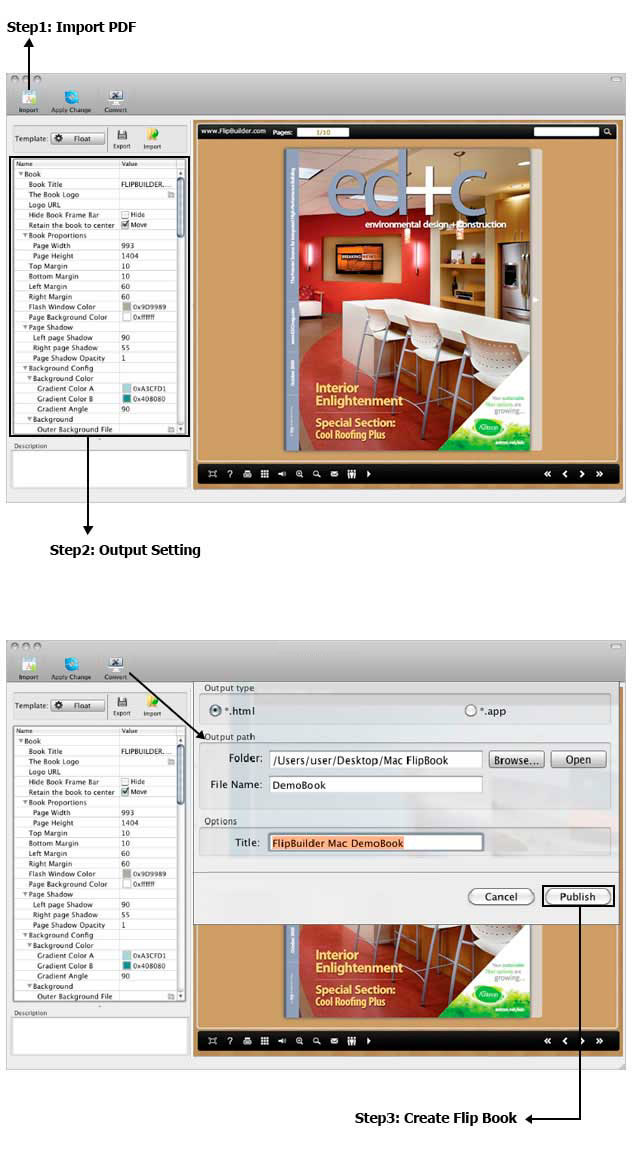 FlipBook Creator vs. FlipBook Creator Professional




Item
Features
FlipBook Creator
FlipBook Creator Pro

1

Convert PDF files to Adobe© Flash® based flip books

2

Output in different formats: HTML, Zip, Mac App, Mobile version.

3

Apply pre-designed templates

4

Batch convert multiple PDF files to single or multiple flip books

5

Unlimited online views and broadband (flippagemaker cloud hosting)

6

Easy user administration - No education or programming knowledge needed

7

HTML sitemap til Search Engine Optimization (SEO)

8

Insert title and metatags descriptions and meta keywords

9

Insert your own tracking code from your standard provider (e.g. Google Analytics) for visits of your online publication

10

Animated teaser / banner for your online publication to place at your WEB site

11

Optimized for 1024 x 768 resolution, your readers will get the best experience and avoid scrolling to see complete layout

12

Browser compatibility: Explorer • Safari • Firefox • Mozilla • Chrome • AOL • NetScape

13

Unlimited online views and broadband (flippagemaker cloud hosting)

14

Import bookmarks, hyperlinks, email links, from PDF files

15

Add watermarks, text, image, dynamic date/ time

16

17

Add HTML title containing hyperlink to webpage

18

Customize template details such as margins, background images, page display orientation, cover type

19

Add Help config to manually define content using images or SWF

20

Customize toolbar buttons to set permissions for downloading, printing, sharing and more

21

Export and save settings for future use

22

Choose from multiple languages for your flip book

23

Password protect your flip books

24

Add Minime style to display flip books without the toolbar

25

Include titles, keywords and other metadata for HTML output

26

Save themes for later use

27

Replace existing icons on toolbar by editing Icon Flash file

28

Add new icons to toolbar with calling actions

29

Add About button to show contact or other information

30

Insert images to the imported pages

31

Edit pages by adding links (web page/web/Javascript function)

32

Embed FLV movie and/or YouTube video

33

34

35

Insert buttons on pages to link, call Javascript function, or play Flash or

other video in pop up window

36

Turn Pages using your keyboard (arrows) or curser

37

Insert static or dynamic text, single or multiple photo slideshow, lines,

graphics, buttons

38

Call Javacript, add notes, highlight a specific area, set print area

39

40

Insert animated figure to narrate designated dialogue

41

Upload created flipbook online without export directly

42

Show uploaded e-book in a bookcase, design your own bookcase and upload the bookcase online

43

Allow readers to add annotations on flipping pages