FlipBook Creator Professional
Reviews(52)





Powerful FlipBook Maker to Make Flash & Html5 Flip Books
Quickly and easily create

unlimited

publications

with

3D

realistic

page-flipping effect;
Integrate Multimedia objects(video, audio, flash, graphics ...) to flipbook pages;
Support make a flipbook with HTML5; Works on most browsers and mobile devices;
Generate offline versions for Win (.EXE ) or Mac OS (.APP).
Quick loading; Small output flipbook SWF size (less then 400KB)

400+ pre-designed templates help create professional flipbook online;

700+ pre-designed backgroud image online for flipbook design

300+ online fantastic scenes to make flipbook with animated background

Publish and share any publication instantly by flippagemaker's cloud services;
Share your flipbooks via popular social networks such as facebook Twitter and more;
Batch publishing of digital publicaiton with Command Line;
Advertising Banner - add advertising banners to the top and right side of the flipbook;
Receive Lifetime Upgrades, support and a Lifetime License with purchase;
30 day money back guarantee!
Platforms: Windows 8, Windows 7, Windows Vista, Windows XP
(Click here for the Mac version:
FlipBook Creator Professional for Mac).
See our specially designed:

Alpha templates

1.0.0.


...
.

..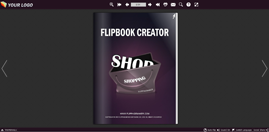 Demo 1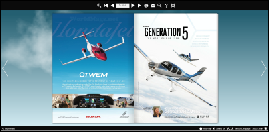 Demo 2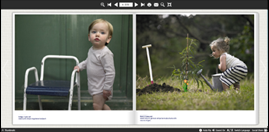 Demo 3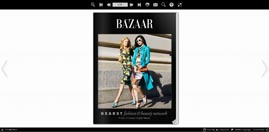 Demo 4
Overview
Features
Screenshots
How It Works
Vs Standard
FlipBook Creator Professional for Windows:
Converts PDF files to flip book based on Adobe Flash for web publishing;

Supports selecting PDF page range for import;
Preserves hyperlinks, bookmarks, Table of Contents and text orientation from your PDF file;
Provides choice of hundreds of settings to configure the look and feel of your flip book;
Provides a wide range of built-in templates or free online templates and themes;
Automatically detect bleeds in PDF;
Automatically adjust different page sizes in PDF;
Set page quality and size, contains five levels;
Supports editing an existing template and saving it as new for later use;
Allows printing of your brand logo (watermarks: text, image, date/ time, etc) to label your flip book;
Allows you to write meta title, description and keywords for web SEO (Search Engine Optimization) when output format is
HTML;
Supports editing descriptions of function buttons for readers who speak other languages;
Allows showing or hiding any button (search, print, magnify, page index, About, share, etc) you want;
Supports adding background music and control over playing intervals;
Supports auto flip pages and control over the time interval;
Supports making original PDF file available for download;
Allows settings to be saved for further use;
Supports password protection for flip books;
Supports saving projects for editing on a different computer or at a later time;
Supports Google Analytics traffic tool;
Supports real time preview;
Supports webpage output for publishing online;
Supports .exe output for running as a standalone Windows application;
Supports .zip output for sharing by email;
Supports APP for running on Mac as a standalone application;
Output it as stand-alone EXE for CD delivery;
Publish it as HTML which allows you to upload to a website to be viewed online. It also provides the HTML code to for webpages;
Provides online publication of your flip books on our host service;
Collects and shows the online flip book on our service in bookcase;
Allows readers to add annotations like text note and shapes on flip pages;
Allows creating bookmark tabs with caption and page index;
Import bookmarks, file text content together with PDF, make PageFlip book more flexible;
Comprehensive built-in search engine for word, sentences, or numbers;
Insert title and metatags descriptions and meta keywords;
Output your PDF/image/Flash to flip book as HTML, EXE, and ZIP.
Publish for viewing on mobile devices (iPhone,iPad, iPod Touch, and even Android-powered devices)


You can insert multimedia object and features in flipping pages include insert video (online or not), link (hyperlink, page link and email address link), Javacript, Autio (sound), flash (SWF and FLV), text (dynamic or not), image (single or multple photo slideshow), line, graphic, button, add notes, highlight area, set print area, etc.
Output Flash Flip Book Features:

Includes three options for page turning:
1. Dragging the page corner
2. Using the Previous and Next buttons
3. Using page thumbnails
Supports automatic page turning;
Includes option to turn background music on/off;
Share flip books with friends on social networks including Facebook, Twitter, Linkedin, Google, etc...;
Switch to full screen display;
Print any page;
Ability to "loop" flip book animations;
Search content using keywords;
Enlarge flip book to enable easier reading;
Share flip book hyperlink via email;
Download any file you attached to the flip book;
View and interact with multimedia objects;
Drag or click on the corner of a page to flip to the next page;
View with pre-loading needed pages to open quickly; do not need to wait all pages loaded;
Use button to control page, such as Previous, Next, Cover, Backcover etc;
Flip pages automatically or manually;
View page-flipping ebook full screen;
Use thumbnail to navigate;
Zoom in/ out both pages;
Turn on or turn off the page-turning sound;
Double click to change to the thumbnail mode;
Input password to unlock encrypted pages;
View flipbook repeatedly;
Download the original PDF from web site directly;
Share eBook url via email;
Add bookmark when reading;
Tag mode option for bookmark;
Flexible zoom options have been added: mousewheel zoom, double-click zoom, click flipbook buttons to zoom etc
Mini mode supported;
Support printing flipbook in most browsers.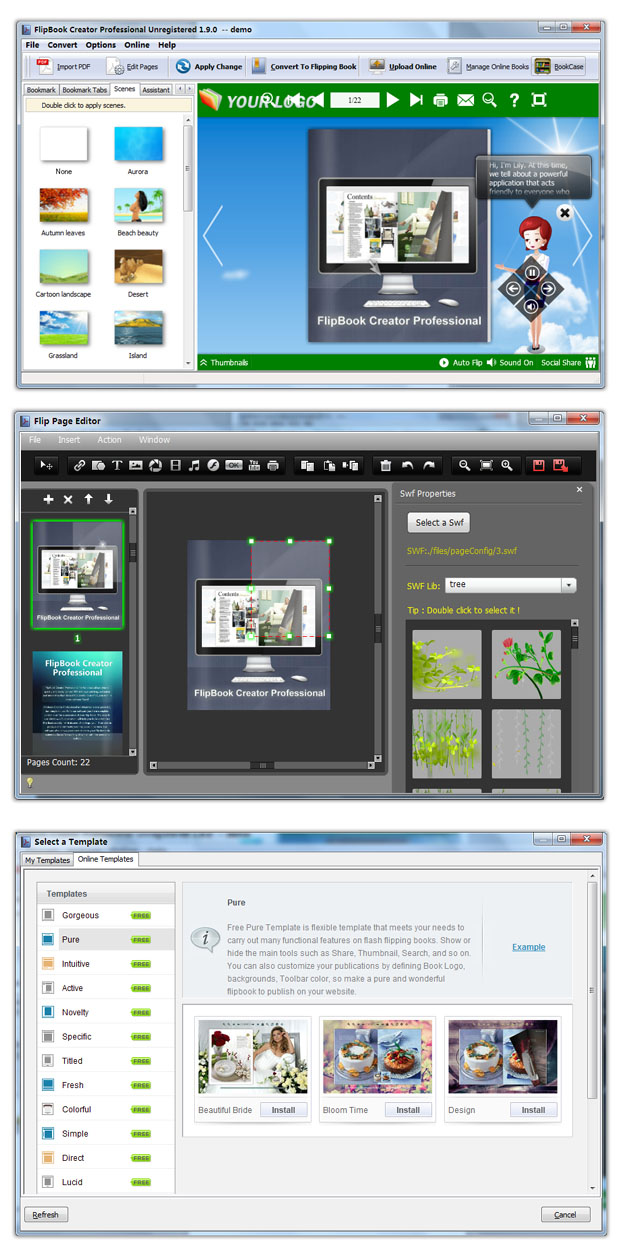 Three steps to create flash flip eBooks from PDF (FlipBook Creator Pro)

FlipBook Creator vs. FlipBook Creator Professional


Item
Features
FlipBook Creator
FlipBook Creator Pro

1

Convert PDF files to Adobe© Flash® based flip books

2

Output in different formats: HTML, EXE, Zip, Mac App, Mobile version and Burn to CD

3

Apply pre-designed templates

4

Batch convert multiple PDF files to single or multiple flip books

5

Unlimited online views and broadband (flippagemaker cloud hosting)

6

Easy user administration - No education or programming knowledge needed

7

HTML sitemap til Search Engine Optimization (SEO)

8

Insert title and metatags descriptions and meta keywords

9

Insert your own tracking code from your standard provider (e.g. Google Analytics) for visits of your online publication

10

Animated teaser / banner for your online publication to place at your WEB site

11

Optimized for 1024 x 768 resolution, your readers will get the best experience and avoid scrolling to see complete layout

12

Browser compatibility: Explorer • Safari • Firefox • Mozilla • Chrome • AOL • NetScape

13

Unlimited online views and broadband (flippagemaker cloud hosting)

14

Import bookmarks, hyperlinks, email links, from PDF files

15

Add watermarks, text, image, dynamic date/ time

16

17

Add HTML title containing hyperlink to webpage

18

Customize template details such as margins, background images, page display orientation, cover type

19

Add Help config to manually define content using images or SWF

20

Customize toolbar buttons to set permissions for downloading, printing, sharing and more

21

Export and save settings for future use

22

Choose from multiple languages for your flip book

23

Password protect your flip books

24

Add Minime style to display flip books without the toolbar

25

Include titles, keywords and other metadata for HTML output

26

Save themes for later use

27

Replace existing icons on toolbar by editing Icon Flash file

28

Add new icons to toolbar with calling actions

29

Add About button to show contact or other information

30

Insert images to the imported pages

31

Edit pages by adding links (web page/web/Javascript function)

32

Embed FLV movie and/or YouTube video

33

34

35

Insert buttons on pages to link, call Javascript function, or play Flash or

other video in pop up window

36

Use command line to convert PDF files without opening the application

37

Insert static or dynamic text, single or multiple photo slideshow, lines,

graphics, buttons

38

Call Javacript, add notes, highlight a specific area, set print area

39

40

Insert animated figure to narrate designated dialogue

41

Upload created flipbook online without export directly

42

Show uploaded e-book in a bookcase, design your own bookcase and upload the bookcase online

43

Allow readers to add annotations on flip pages