Enable readers to browse on iPad, iPhone, iPod Touch and Android-powered devices?
iPhone, iPad, iPod Touch, Android-powered devices and many other mobile devices provide convinience and ease to help people always on road. And you if as a publisher must hope those Mobile people also can read your 2D flash eBook with their mobile devices. Now you can do this.
1 Click

.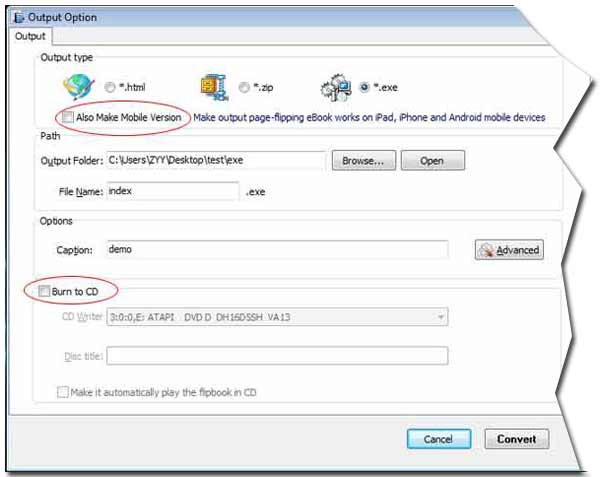 2 Check one from "*html", "*.zip" and "*.exe" (More details, you can refers to FlippingBook Creator output forms) .
2 Check "Also Make Mobile Version" like above.
3 Browse an output folder to contain output files.
4 Click "Convert".
5 Upload all the output files to your webserver (If want to know more, please refers to Upload flash flip page book online).
6 Open your mobile phone, next open its brower, enter the ebook url.
If everything is OK, you can read the Flash page-tunning PDF eBook on your Phone Brower.