Would you like to embed YouTube videos into your page-flipping book?
You must know of the important function of FlipBook Creator Professional that embedding YouTube video. And then I'm going to ask have you ever embedded a YouTube video on the flipping page? If you haven't ever tried to insert, please follow me to do it. You would find it really easy beyond the imagination. First, do you have an account of YouTube, generally if you have account of Gmail, you can log in YouTube with it. In fact, even you haven't the account, it doesn't matter, and then click on your favorite YouTube Video thumbnail to open it. As the following illustration shown:

On the browser address bar, I highlight the video ID which is the important parameter. Remember copy it and you should do: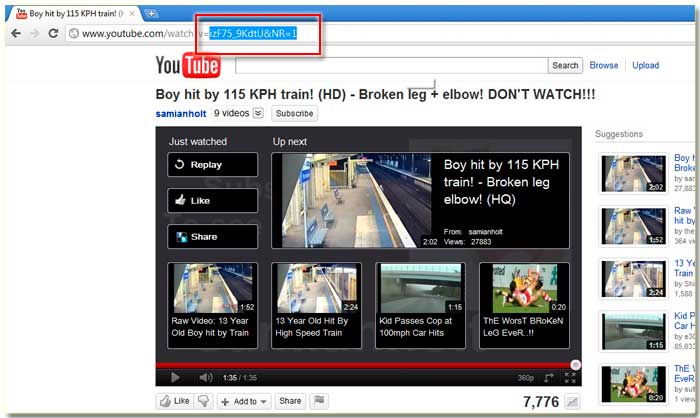 Step1: Launch FlipBook Creator Professional, and import a PDF file.
Step2: Click "Edit Page" to step into the flipping page editing interface.
Step3: Click "Insert --> Insert YouTube", and then circle an area on any page.

Now please turn your eye to the right edit window, what you should do is paste the video ID in the first form. In the following "Video Parameters" form, you can self-define some parameters to control the YouTube video properties. More details, you can refer to http://code.google.com/apis/youtube/player_parameters.html?playerVersion=AS3.
There is still one thing I must prompt you that due to security reason of the computer, sometimes, some people would encounter a problem that after embed Youtube video and then return to the preview interface, it can't runs normally. But they will encounter a crash. Don't worry about it, only you should install the flashplayer_10_ax_debug.exe or higher version. Then you can preview the YouTube smoothly. In fact, this problem you will encounter only comes up in your local environment, after upload the output page-flipping files online, it will disappear.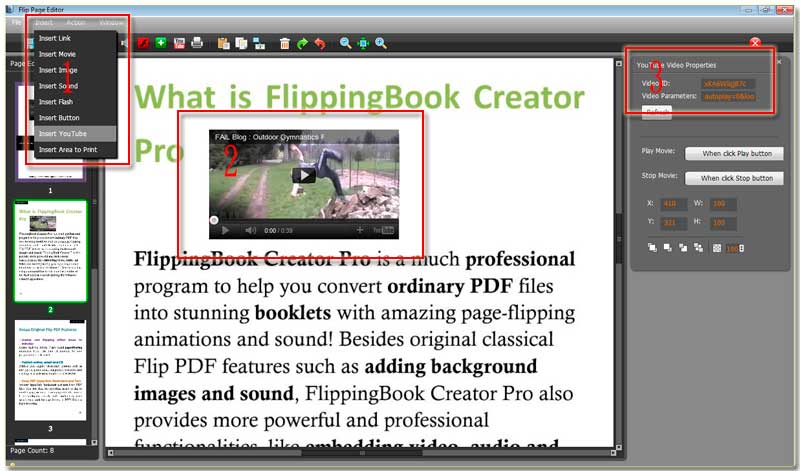 Free download FlipBook Creator
Free download FlipBook Creator Professional
Free download Photo to FlipBook