Allow readers to download the page-flipping book or launch at the specific webpage?
Sometime, you would like to enable others who visit your webpage to obtain something as a gift. How about opening the function of downloading? Allows them to download something from your website would make a deep impression to the visitors if it can bring practical benefit to them. FlipBook Creator for MAC supports this function. You can enter the download hyperlink for example http://www.domain.com/download/my-file.doc , set up it in the output flipping book if there are people click the download link, they can go ahead to the URL pointing website or file.

Step1: Turn to the left basic settings area, find the option "Tool Bar Settings --> Download Setting".
Step2: Check the checkbox of "Download Enable", and then enter the URL you want people to visit similar as the above URL:  http://www.domain.com/download/my-file.doc in the form of "Download URL".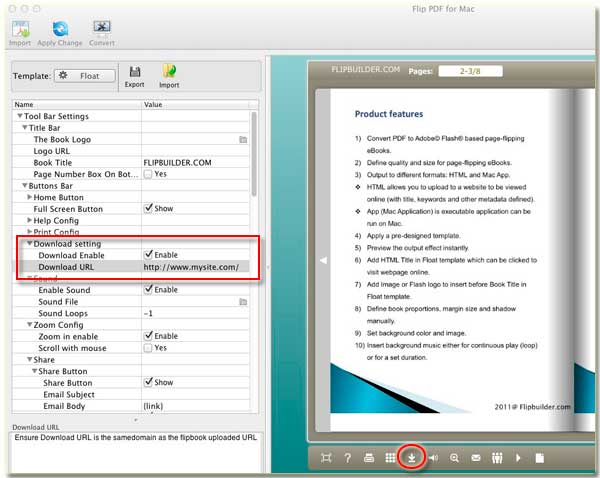 Please don't forget to click the top icon of "Apply Change" to apply all the changes to the right preview window. And then start converting to page-flipping book with downloading function. After the output HTML opened in your browser, please test to click the below icon of "Download". If you can access to the webpage or download the file, it proof valid so that other people can download if you upload the output files online.
Free download FlipBook Creator
Free download FlipBook Creator Professional
Free download Photo to FlipBook