Can I build page link on the flipping pages to go to inner page on MAC?
You known, in word document or some other kind of office files you can append page links or hyperlinks on some paragraph of words when people click it they would go directly to the link directions maybe the inner page or a website. It brings much convenience to people skip among different pages. FlipBook Creator Professional for MAC consider on this point, so it enables you embed links on the flipping page. You can click it directing to the inner page. If you want to build a table of content, it must help you a lot.

Step1: Launch FlipBook Creator Professional for MAC, you should first import a PDF file, and then click the icon Edit Page to step into the flipping page editing interface.
Step2: Click Insert --> Insert Link, and click one page from the left list to select it, and then circle an area to put the link, finally on the right pop-up small editing window click the button of Action Option.
Step3: click the checkbox Go to Page, in the below form enter the page number which you wish people go ahead. For example, you enter 3, when people click the link, they will go ahead to the number 3.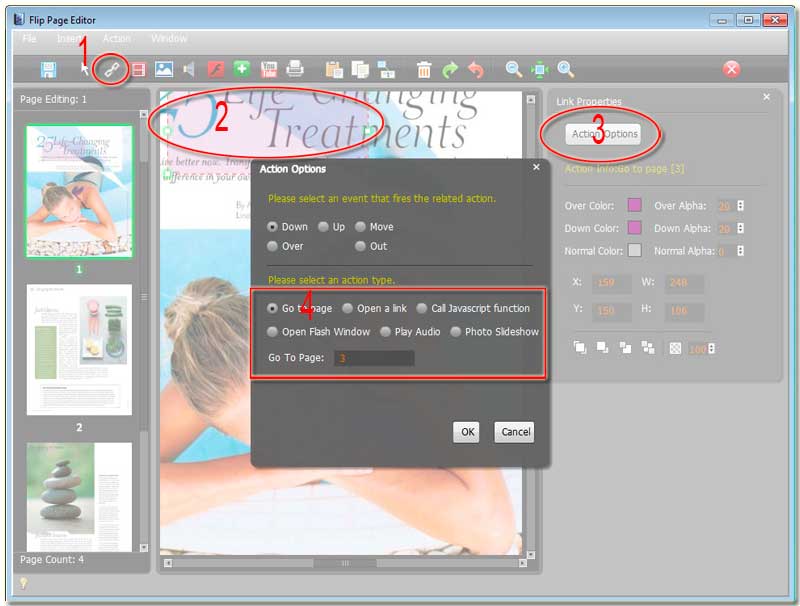 Free download FlipBook Creator
Free download FlipBook Creator Professional
Free download Photo to FlipBook