Can I control the help information seen at the first sight of your page-flipping catalog?
Most of time, the visitors who browse the online flipping book will firstly flip the flash book page-to-page. After they have interest on the content of page-flip book, they would want to know more about this stunner for example author, publishing address, publishing date and time. At that time, you should work harder to enable them to know more about you as a kind prompt or advertisement. It must be required that you put an entrance for much more information about the current page-flip catalog for readers who want to contact you.

Next, let's learn how to shown the help introduction at the first sight and what's the benefit the help function can bring to you and your readers.

Step1: Go ahead to the left settings area and find the option "Tool Bar Settings --> Buttons Bar --> Help Config --> Show Help At First".
Step2: You should check the afterward checkbox "Show".
Step3: Click the top icon "Apply Change" for applying the settings to the right preview flipping book.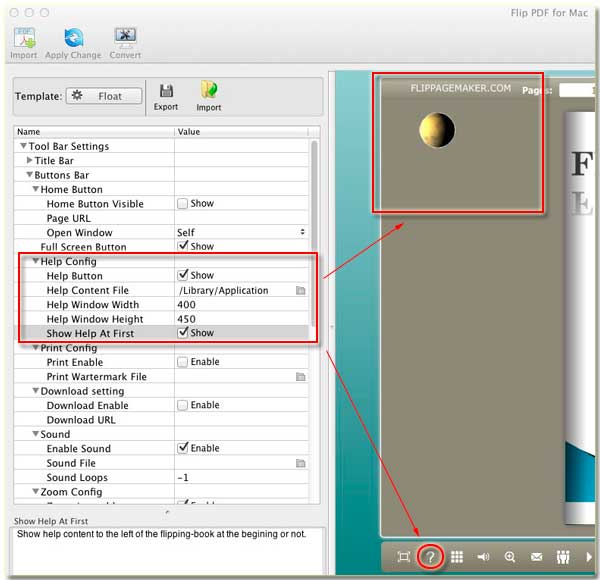 Now you can preview it, whether the help-icon shown on the menu tool bar?

Note: An image that printed the information you desire others know should be prepared firstly, and then upload it on the flipping book, finally if you check the option "Show Help At First", it would be shown on the left-top corner of the flipbook. It is an obvious place where everyone will view. Simultaneous it benefits you as an ads place.
Free download FlipBook Creator
Free download FlipBook Creator Professional
Free download Photo to FlipBook