Can I embed a button on flipping page to launch a new webpage?
Have you ever considered insert a button on any page of the flipping pages allowing others go to a new webpage through it? It is just a good idea for providing convenience to readers to quick obtain more detailed information. FlipBook Creator Professional for MAC enables you to embed any number of buttons on flipping book and carry out the actions: go to page, go to link, call JavaScript function, open flash window, play audio even and open photo slideshow. This tutorial teaches you how to go to a new website through clicking the buttons.

Step1: Launch FlipBook Creator Professional for MAC, import PDF file and then click the icon of "Edit Page" on the top menu line.
Step2: entering in the flipping page editing interface, click "Insert --> Insert Button", and then circle an area on any page you want.
Step3: on the pop-up button editing window (on the right), click the button of "Select an icon (SWF, image)" for selecting an button cover from local disk, in fact you should design one beforehand.
Step3: Click the below button of "Action Options" to pop up the action editing window, check the checkbox "Open a Link" and then enter the new website URL such as http://www.google.com in the below form.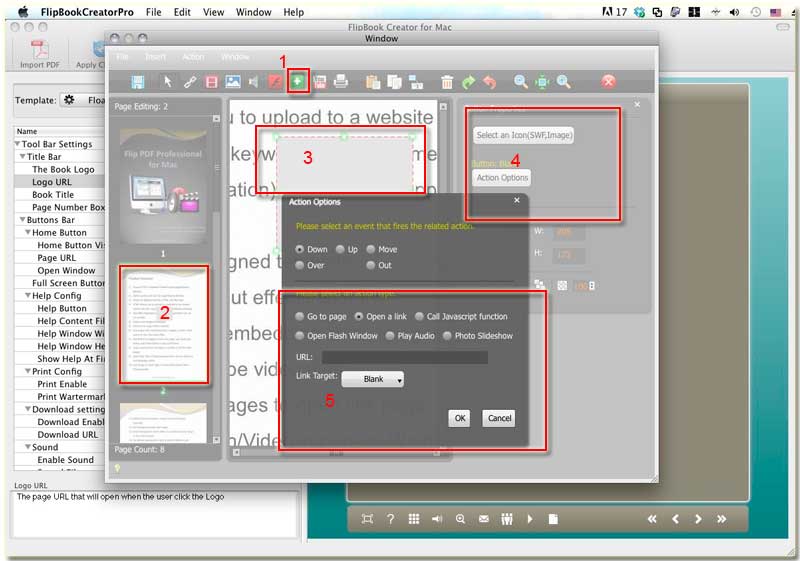 Finally, click OK to complete adding buttons on flipping page and then return to the flipping book editing interface by click "File --> Save and Exit". At that time, when you flip to the page which added button, you would find the button you designed is over there waiting for clicking it.
Free download FlipBook Creator
Free download FlipBook Creator Professional
Free download Photo to FlipBook