How to add page number?
As a book, the page number helps us remember where we read. Next time, we can go to the page interrupted last time. A digital book should be different from paper book page number.  It could be either animated or still. Whichever we choose it is the same we follow the way of FlipBook Creator Professional.

Animated:
1 Start FlipBook Creator Professional, click on Page Editor.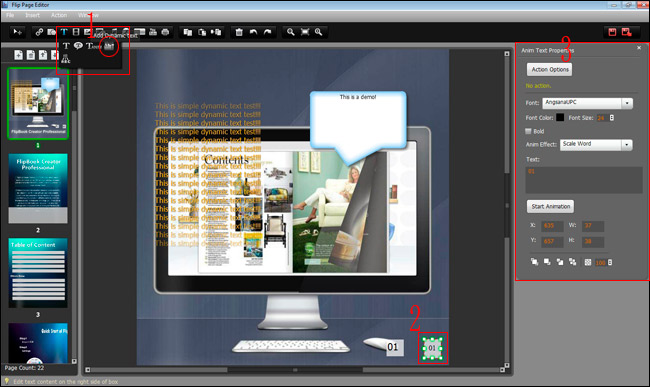 2 Click on Select Text Displayer to Insert button, select Add Dynamic Text.
3 Draw a square with your mouse at the point of left/right bottom where page number generally placed.
(I saw some book with page number placed in left middle or top left/right. I guess it depends.)
4 In the right edit box, you can
<1> Set Action Options.
<2> Select font.
<3> Set font color and size.
<4> Make the text bold.
<5> Select one animated effect.
<6> Input text.
<7> Start Animation to preview.
<8> Set X,Y coordinate, Width and Height
<9> Set Cascade mode
<10> adjust Transparency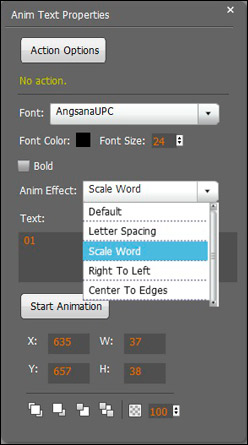 Still:
Compare to mode of Animated, Still displays quiet without dynamic effect. It has the same operation as Animated. So please refer to the steps above to make Still page number.
Free download FlipBook Creator
Free download FlipBook Creator Professional
Free download Photo to FlipBook