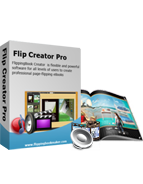 $299

FlipBook Creator Professional
The Most Powerful Digital Flip Book Authoring Tools
Create Digital Flash Flipbooks with embed video, audio, flash and links.
Customize your own style theme ( look&feel ).
Retain PDF Hyperlink, Bookmark and Text.
Command line to automate the creation of Flipbook.
Publish online for mobile devices (iPhone, iPad, and Android devices).
One-time fee, unlimited conversion, without paying royalties.

Free Trial
Buy Now
View Demo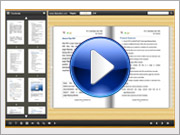 Take a Video Tour>>


FlippingBook Marvels Themes for FlipBook Creator Professional
This theme Marvels has been specially designed for people who want to create online flash catalog or digital brochure. The contracted background image touch the whole tune up. Although it looks Simple, it gives off its good taste. These five templates in the theme of Marvels have completely different style and contrast against each other. Whatever, you almost can't find their common points. Yes it proofs that you could taste of five flavors. That is to say that one theme and five different templates.

I think the templates seem like table cloth because you put your flipping catalog, brochure or magazine on it like a desk. Merely we provide you some special electronic table cloth. Simultaneously, you plan to create digital product shopping catalog, brochure. Of course, if you try to unfold this desk cloth, you will find they are magic cloth with much incredible functions. If you don't like it, I'm afraid your catalogs do not agree with you. Why? The book on the templates looks so charming.
How to install Themes for FlipBook Creator (Pro)?
Marvels Themes Screenshot