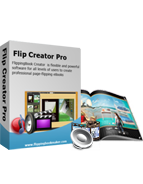 $299

FlipBook Creator Professional
The Most Powerful Digital Flip Book Authoring Tools
Create Digital Flash Flipbooks with embed video, audio, flash and links.
Customize your own style theme ( look&feel ).
Retain PDF Hyperlink, Bookmark and Text.
Command line to automate the creation of Flipbook.
Publish online for mobile devices (iPhone, iPad, and Android devices).
One-time fee, unlimited conversion, without paying royalties.

Free Trial
Buy Now
View Demo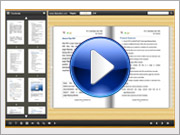 Take a Video Tour>>


Free FlippingBook Wooden Desk 3 Themes for FlipBook Creator (Professional)
I adopt bamboo desktop as the flipping digital online catalog outer background image. Simultaneously embed the wooden floors as the inner background. We can feel the deep pastoral breathing. The vertical stripe wooden desktop on the outer background bamboo shows you a harmony combination between the two different styles. It is capable of returning you to the childhood playing on the wooden floor which has been absent for long. You know good time rapidly flied. Anyway this theme Wooden Desk 3 seems to bring much precious memory. Especially, it is in the form of electronic publishing of flash online product catalog, which connects classical taste and modern non-paper environment protection perfectly. Natural wood or their transversal surface is made into rough or exquisite desktop with the inspirations of lifecycle and significant of nature.

The theme Wooden Desk 3 Series provides the newest taste of wood again. To you surprise, there are six templates contained, the bamboo emerges which show you the scene of bamboo grove with cool breeze.
How to install Themes for FlipBook Creator (Pro)?
Wooden Desk 3 Themes Screenshot