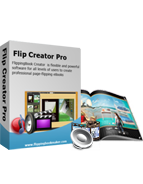 $299

FlipBook Creator Professional
The Most Powerful Digital Flip Book Authoring Tools
Create Digital Flash Flipbooks with embed video, audio, flash and links.
Customize your own style theme ( look&feel ).
Retain PDF Hyperlink, Bookmark and Text.
Command line to automate the creation of Flipbook.
Publish online for mobile devices (iPhone, iPad, and Android devices).
One-time fee, unlimited conversion, without paying royalties.

Free Trial
Buy Now
View Demo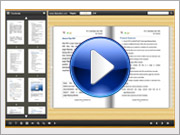 Take a Video Tour>>


FlippingBook Cool Line Themes for FlipBook Creator Professional
I can't imagine the straight lines look so perfect that I can't believe my eyes. Making the cool line picture into templates for your online or offline publishing Catalog, Brochure, Product list, or menus will attract more and more peoples' eye. If you have a big super market, factory, or any other else, generally, you would plan to advertise them to obtain great benefit. How to popularize your catalog, brochure, product list? Maybe you could ask a lot of people more than once. Especially nowadays, we face to most popular worldwide internet, electronic commercial become overwhelming. If you plan to make a killing, you should take pains to consider how to build a more professional, lifestyle, or practical than the industry. Of course, as the premise of good sale, the products quality cannot be overlook.

Our free theme: Cool Line templates (FlipBook Creator) helps you create professional flipping catalogs, makes you save much money and create great profit. In fact, the theme Cool Line is just a FlipBook Creator theme of templates. It provides 6 charming templates, you can get them absolutely for free, simultaneously import it into FlipBook Creator (Pro) to apply to your PDF brochure. This theme, we adopt magic straight line and black night air as background without stealing the show of your catalog. To touch your amazing product list up, it must be default choice for you.
All various free flash flippingbook templates are available in FlipBook Creator Professional or FlipBook Creator standard. With those Themes & Templates you can make more professional and interactive flash Flipping Book as you want.
How to install free Themes & Template, please see : How to install Themes for FlipBook Creator (Pro)?
To use Themes & Template, you must install FlipBook Creator Professional or FlipBook Creator standard frist!
Cool Line Themes Screenshot