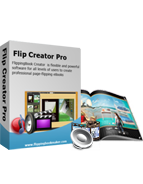 $299

Ice-Cream Theme Templates
The theme Ice-Cream provides refreshed looks and feel
Ice-Cream blend ice cream flavor in flipping book design templates impress you.
With less workload and in shorter time, the common digital file become quite different.
Both Importation and exportation are very easy to complete facilitate flipbook building.

Free Trial
View Demo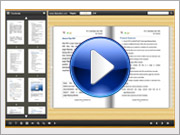 Take a Video Tour>>


FlippingBook Ice-Cream Themes for FlipBook Creator Professional
The Ice-Cream also provides 4 templates which build full-interactive online publications with gorgeous effect of flipping absolutely for free. Most people love ice cream especially in summer for its hot weather and to the point it in deep delicious. Although winter is coming, the terrible atmosphere never holds the desire of eating ice cream back. We blend ice cream flavor in the electronic publishing for the reason make taste sense impact the vision, finally impress readers. These templates can be easily imported in FlipBook Creator (Pro), in fact easy to be exported too. Almost within few minutes, the source of common file becomes quite different for the professional support coming from these templates.
How to install Themes for FlipBook Creator (Pro)?
Ice-Cream Themes Screenshot