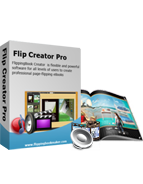 $299

FlipBook Creator Professional
The Most Powerful Digital Flip Book Authoring Tools
Create Digital Flash Flipbooks with embed video, audio, flash and links.
Customize your own style theme ( look&feel ).
Retain PDF Hyperlink, Bookmark and Text.
Command line to automate the creation of Flipbook.
Publish online for mobile devices (iPhone, iPad, and Android devices).
One-time fee, unlimited conversion, without paying royalties.

Free Trial
Buy Now
View Demo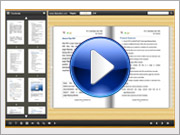 Take a Video Tour>>


FlippingBook Cool Dog Themes for FlipBook Creator Professional
The free Themes & Template for FlipBook Creator (Pro) on this site are made available in the standard .ZIP file format. Most modern operating systems can enable you to open these without installing any special software, but in the event you do need something, get 7-Zip. Don't forget to check out the license page.
All various free flash flippingbook templates are available in FlipBook Creator Professional or FlipBook Creator standard. With those Themes & Templates you can make more professional and interactive flash Flipping Book as you want.
How to install free Themes & Template, please see : How to install Themes for FlipBook Creator (Pro)?
To use Themes & Template, you must install FlipBook Creator Professional or FlipBook Creator standard frist!
The themes shadow templates provides the newest visual impaction. Shadow series themes will impress lots of you for its magic ray of light in the darkness. We almost can't imagine varicolored ray can dance so gracefully. Just like the dancers in the mystical night. The wonderful lines and the lucency, witty scattering fire lights splits the night and makes us daze to be lost into the dreaming. Place the flipping book itself in the charming scene of starlight and fireworks, you will find the book look so incredible companying with amazing atmosphere. Anyway as the symbol of literature you book become not ordinary anymore and shows up against the night air background.

The three screenshots of template are the representative of the main topic of Shadow. The flipping book is located in the middle center. The lines, star light or smog shapes as rainbow, and they enhance the leading role the flipping book without stealing the show. The background we call it costar, it grasps the right sense of proportion. Whatever, download it and import your PDF, finally it become flipping book enclosed by the magic rainbow.
Download
Shadow Themes Screenshot