FlipPageMaker Image Converter
freeware
Transfer image formats including JPG, BMP, PNG, GIF, TIFF, ICO, JP2 and TGA;
Reset image size, rotate image, rename image file;
Batches convert multiple images in one time;
Support Watch Folder convert mode for converting more quickly and conveniently;
Support Command Line mode to run the application with command line;
To make PDF a real page flipping effect, you may be interested in FlipBook Creator Professional.
Download
FlipPageMaker Free Image Converter is free based tool that allows you to convert JPG images to other formats including BMP, GIF, ICO, JP2, PCX, PNG, TGA and TIF. It is designed to transfer images as easy as possible. It is also capable of batch converting the file format of image, supporting Command Line (CML) and Hot Directories (watching folder) converting modes. In addition, it is capable of resizing and rotating images. The small application has a clear interface and there is no redundant icon.
FlipPageMaker Free Image Converter is simple to use. If you need to convert one or thousands of images into varying types, this is the tool. The most popular task our customers perform is to convert JPG to PNG, TIFF and Bitmap files. It can be especially useful if you require complicated conversion jobs to be done on a regular basis. The great free image converter can run from the command line allowing for use in batch files or can be automated from within other programs programmatically. In addition, Hot Directories or Watch Folder converting mode achieves perfectly.
A summary of these 3 Converting Modes

Batch Convert: batch convert images in a time, Add Folder to add images;
Hot Directories Mode: set directories and start conversion, the freeware will watch directories and convert images automatically once there are changes;
Command Line Mode: use command line to start up and run the software.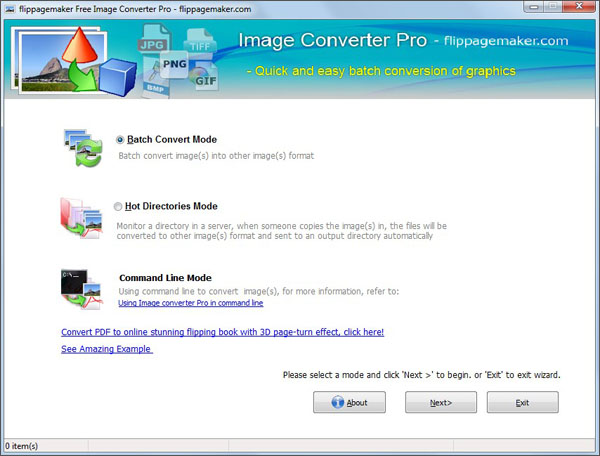 What setting options can you do for the output images?

Click icon "Option" to:
Set Output File Name, to use original file title or generate sequence file name;
Resize Image, to Crop, Shrink or enlarge, or Fit images size to selected size;
Rotate Image in specific degrees.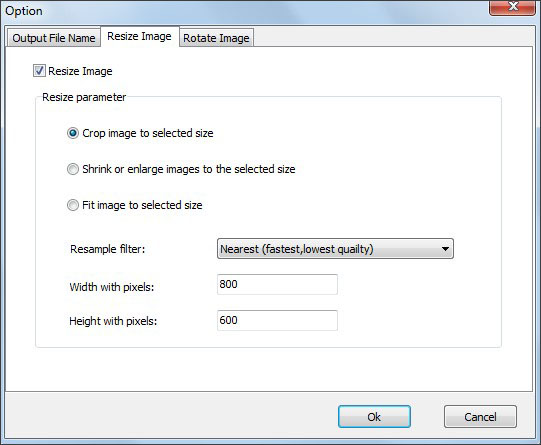 Why we say Free Image Converter is user-friendly?

One it that a button is designed to enable transition between Batch Convert Mode and Hot Directories Mode conveniently. You do not need to exit and re-launch the converter to transfer Batch Convert Mode to Hot Directories Mode, or to transfer Hot Directories Mode to Batch Convert Mode.
Another one is that there is a preview window in the right side of this converter. Such, you can find out image you need by not only referring to its information but also previewing it.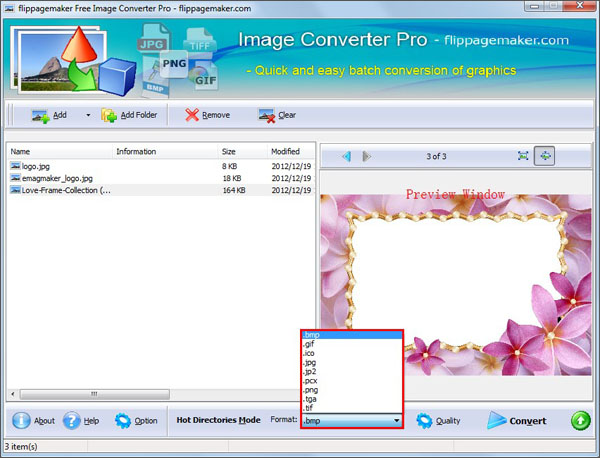 Related Products
FlipBook Creator Professional for MAC