Flippagemaker PDF to Text
freeware
Simply convert PDF file to plain text;
Small freeware with only five buttons;
Only two steps are required to extract text from PDF;
Define page ranges to convert in Option window;
Easy to operate, high convert speed, and user-friendly interface;
Free customer care forever;
To make PDF a real page flipping effect, you may be interested in FlipBook Creator Professional.
Download
Flippagemaker PDF to Text is small application that lets you perform free instantaneous conversions without the Acrobat software. This freeware is especially designed to convert your PDF (Acrobat) file to plain text. It extracts the PDF file's text and strips out any logos, fonts, layouts and graphics which the file may contain, leaving you with simple, reusable text. To successfully convert your PDF, open your file into the interface. Then, click Extract Text icon to successfully achieve getting plain text from PDF.
When we need to extract Text from PDF?
Although the PDF is highly dynamic and robust format, there are times when the super advanced features of the PDF are unnecessary and plain text is needed instand of. A plain text file is exactly what its name implies. It is a file contains only plain text and in which there is no formatting. A text file may lack the advanced features of the PDF, but this simplicity is required for the most essential data processes there are. For instance, because they can be encoded in ASCII and made universally compatible, text files are used for technical data processing like source code compilation, HTML editing or updating databases. Text files can even be used for simplifying your work on a daily basis. Working with simple blocks of text allows you to easily assemble PowerPoint presentations, create publishing material or paste text into Word documents. If you want to eliminate those excess PDF elements and stretch your content beyond its original purpose, simply extract the textual content using the Flippagemaker PDF to Text converter.
Five Buttons in the Flippagemaker PDF to Text (freeware)
Open – click to open a PDF file you want to convert to text. The file path and pages information will also show in the window when open a PDF file successfully;
Option – provide three output settings include Page Range, Page Header and Footer, and Extract Type;
Extract text – click to complete the conversion;
Stop – stop the conversion when you need to during the conversion;
About – get information about provider FlipPageMaker. Know more about the flipping book maker, FlipBook Creator Professional.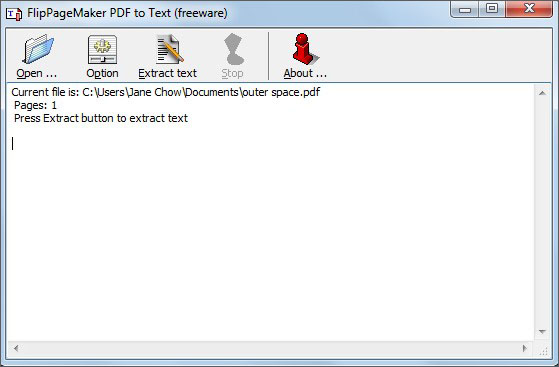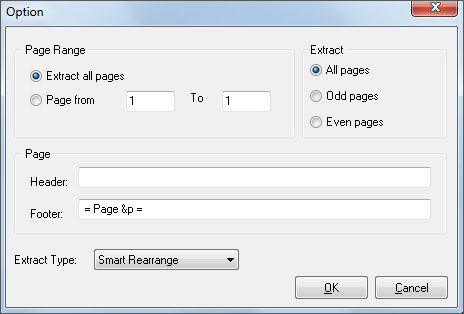 Related Products
FlipBook Creator Professional for MAC